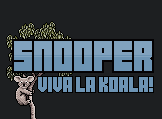 Peelopaalu | Oldskool Style Link Directory
Peelopaalu is a link directory I created for my own personal use in mid-late 2019 in an attempt to list some of the obscure stuff I come across while surfing the web. Despite never being originally intended for public viewing, after much encouragement (see: pestering) from a close friend, I decided to put it up on Neocities.
Within the first day, Peelopaalu gained over 2,000 unique visitors, and by the end of the week, it was crawling steadily towards 10,000. As of April 2020, Peelopaalu is home to almost 500 interesting links and has been visited by over 50,000 people from all around the globe.
Outburst | Experimental Anonymous Text Board (Discontinued)
Outburst was an experimental text board I created with a friend in October 2016. The idea behind Outburst was to give people a truly anonymous platform where they could share their thoughts about anything and everything without fear of censorship.
Due to the nature of how Outburst worked, no data was collected on anyone who posted on the site, so we had no way of telling exactly how many active posters we had or how many people were visiting the site at any given time - That said, Outburst gained over 2,500 posts in its closed beta testing phase, and up until September 2020 gained a further 5,000+ posts, at which point the project was officially ended and the site was closed.

© Snooper ~ (2019/2020)