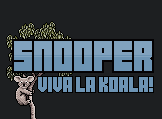 Hi, I'm Snooper.. Welcome to my website!
I spend most of my time making dumb websites, and occasionally I even produce some non-dumb ones by accident.
If you're reading this, there's a good chance that you may have stumbled here from my other website called Peelopaalu so you may already know a bit about me and my interests.
Shout-outs!
I'm a huge fan of the incredibly hard work done by the people who run the Koala Hospital in Port Macquarie NSW. These people are absolutely dedicated to caring for our eucalyptus tree dwelling buddies when they're not feeling so well. If you want to help, consider financially supporting these guys.
Are you someone who's into buying art commissions? Consider checking out my other (worse) half, purple-blep. She offers incredibly good commission rates, and her work is pretty top notch!
Like what I do? Maybe consider checking out my friends over at Soda. They make some pretty neat stuff, and last time I checked, they were taking on applications for people to join their web-ring! Give them a look, and let them know I sent you.

© Snooper ~ (2019/2020)